News
The final contest of 2015 Chinese Young Surgeon Contest—surgery for gastric cancer
The final contest of 2015 Chinese Young Surgeon Contest—surgery for gastric cancer was successfully held in Beijing International Conference Center on 27th June, 2015. After the exciting contest among the 12 finalists, the first prize, Theodor Billroth Prize, was taken by Xian Shen from the First Affiliated Hospital of Wenzhou Medical University in Open Group, and Jian Zhang from Hangzhou First People's Hospital in Endoscope Group.
This contest was co-hosted by Chinese Anti-Cancer Association, Editorial Board of Chinese Journal of Cancer Research and Translational Gastrointestinal Cancer, AME Publishing Company and DXY.CN. The aim of this contest is to share the successful experience of standardized surgical technique in gastric cancer, facilitate the technical exchange among Chinese young surgeons and cultivate academic talents in this field (Figures 1,2).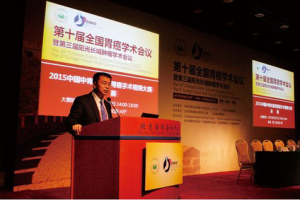 Figure 1 Prof. Jiafu Ji, President of this Chinese Gastric Cancer Congress is making an address at the opening of the contest.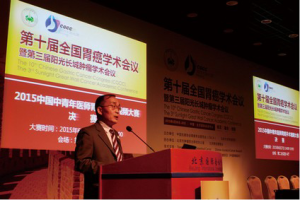 Figure 2 Prof. Zhaode Bu from Beijing Cancer Hospital is introducing the judging rules and attending judges to the audience.
This surgical contest adopted anonymous voting. Each audience and judge has only one vote respectively in Open Group and Endoscope Group. During the contest, all the 12 surgical videos were numbered and played randomly. When the videos were finished playing, participators could vote for the most excellent one using voting machine. According to the votes from most to least, the awards were set up as Cheodor Billroth Prize, Cesar Roux Prize and Heinrich Braun Prize (Figure 3).
The Contest Organizing Committee has attracted many applicants since the invitation was sent out in early April of this year. On the first round of selection, the method of anonymous scoring online was adopted. The six videos with highest scores were selected in Open Group as well as Endoscope Group. Total 12 contestants stood out and were invited to participate in the final contest. The contest was honored to invite Prof. Han Liang, Yingwei Xue, Yinhua Liu, Yanbing Zhou, Min Yan, Leping Li, Yihong Sun, Zhongtao Zhang, Xiangdong Cheng, Qingsi He, Zekuan Xu, Fei Li and Xuedong Fang to be the contest judges and made brilliant comments on the surgical videos. The judges spoke highly of the videos, considered that the methods of surgery should not be only stick to one pattern and gave several professional and valuable suggestions to the finalists varied from patient selection, intraoperative hemostasis to ways of video demonstration (Figure 4).
After the exciting voting, Theodor Billroth Prize was taken by Xian Shen from the First Affiliated Hospital of Wenzhou Medical University in Open Group, and Jian Zhang from Hangzhou First People's Hospital in Endoscope Group.
Contest result:
Open Group
Theodor Billroth Prize: Xian Shen
Cesar Roux Prize: Yi'an Du, Xin Ji, Xinxin Ji
Heinrich Braun Prize: Litao Yang, Feng Wang
Endoscope Group
Theodor Billroth Prize: Jian Zhang
Cesar Roux Prize: Kai Ye, Wu Song
Heinrich Braun Prize: Guoshan Yang, Zhengrong Li, Jiadi Xing
The award ceremony was held together with closing ceremony of the 10th Chinese Gastric Cancer Congress on 28th, June. The Chinese Young Surgeon Contest-Surgery for Gastric Cancer, as one of the critical series activities in gastrointestinal field, provides an exchange and learning platform for the young surgeons and helps to develop Chinese clinical diagnosis and treatment.
---
Acknowledgements
None.
---
Footnote
Conflict of Interest: The author has no conflicts of interest to declare.
Cite this article as: Huang JC. The final contest of 2015 Chinese Young Surgeon Contest—surgery for gastric cancer. Chin J Cancer Res 2015;27(5):536-537. doi: 10.3978/j.issn.1000-9604.2015.10.02